Discussion Starter
•
#1
•
My first bike, which I saved up for four years, was a '72 Kawasaki G5-100, the predecessor to the KE100. Prior to that I'd ridden a few 4-stroke dirt bikes and a step-through tiddler my Dad had bought. I hadn't really ridden on the street until I was stationed in Germany @ age 18. I found a bike at a used car dealer just outside the main gate of my base; what I didn't know at the time is I'd just stumbled upon what was arguably the best-handling bike of the era, a '73 Yamaha RD350. This was very early in '77.
From that moment on I fell in love with Yamaha RDs and 2-strokes. I never have fallen out of love with them, regardless of the advancement of technology. They're easy to work on and I love the light weight and how flickable they are. I do have a modern bike, an '03 Z1000 Kawi I bought new, my second brand new bike ever bought exactly 30 years after the G5; but my real love are my 2-strokes.
Here's a '74 RD350 based Cafe Racer I built several years ago...it's been apart for awhile with some changes on the way. Very little left stock on it, lots of "period" tricks and the only concession to modern stuff are the RZ350 wheels, forks and brake setup: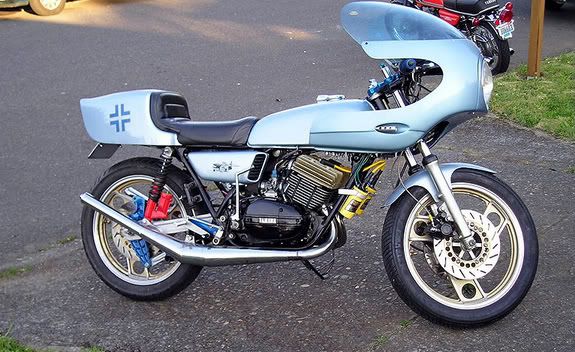 I have an '84 and '85 RZ350, a '76 RD400, a '75 RD350, a couple of RD tiddlers ('75 RD60 and '75 RD125). Awaiting restoration are a '66 Suzuki X6 250 and another '72 G5 100, both found after more than 30 years of searching; it was especially difficult to find a G5 complete enough to restore!
Now that I'm semi-retired, I have the time but not the $$$ to restore these and finish the last changes on my blue bike, so I'm hoping to find a part time job to save up for doing so. Temporary health issues forced the early retirement from a really good job, but I just couldn't sustain working 65-70+ hrs/week w/o any real vacation for over 10 years.