Billy & I have decided to start an on going thread called "How it's Done". This will be an informative and educational thread to show how things are done in the Machine Shop.
After being a member of this most wonderful site, I've noticed ads & recommendations to many other shops that do custom work. I've noticed that most of the time you are led to believe the other facilities manufacture their own products. Fact is, this is seldom true. The custom cylinders come from
www.CPindinc.com
, the sleeves come from either
www.nwsleeve.com
or
www.lasleeve.com
. This kind of work is seldom done by your local engine builder, it's far beyond their capabilities.
This isn't a competition on who knows the most or the best or any of that stuff. We hope that any of you will reply with comments, questions & criticism on anything which you see in the thread. Billy will do a monthly recap or something depending on how things go with our endeavors. I expect to do a weekly addition to the thread. Subjects will be random depending on the projects that come across my work bench.
Index
1. Measuring tools
2. Cylinder boring prep., Hone introduction
3. Hones cont. Sleeve preparation & comments
4. How strong is that piston, Sleeves & cylinder etching
5. Boring & Sleeving A Mercury V-6
6. Boring & Honing, 2-stroke ideas, That mighty old Dale Herbrandson Reed Valve. DH Reed valves started everything in the
reed valve business.
7. Sleeving LT250R cylinder, Bore & hone a Yamaha twin.
8. Mandrels, coils, some handy information.
9. Stainless steel head studs, Foundry patterns for new cylinder liners.
10. Replace main bearing support bushings.
12. CR500 compression releases + or -
15. CR500 Liner replacement
16.-18. General discusion
19. Your Sleeve shrink fit, Sleeve foundry patterns.
37. Check your squish/deck height
40. Main bearing inserts the CNC way, How to figure your Squish Band.
41. Sleeving LT250R, Some coil inserts, Torque plates.
42. Sleeving 350 Yamaha, Replacing stripped exhaust threads.
43. Montessa Reed valve, Old time water coolers.
48. KX500 Sleeve instalation
51. Compression calculations
51. Sleeve Weber
54. Sleeve 650 Triumph twin
40 years & still moving along.
New Cylinder boring bar stand.
My background is a lifetime in the Machine Shop. I'm now 65 and started boring cylinders some 45 years ago. As you all have probably noticed from some of my comments, I also have a lot to learn. We all must humble ourselves and learn something new each day. Please chime in when you have some good ideas to share with the readership. Most of your replies to my stumbling comments have been polite and constructive. Please keep a positive attitude with your replies and it should all be worth our efforts.
Since I've become a member of E2S, I'm starting to see a lot of the JUNK work which others have paid a lot of money, only to end up in disappointment. I'd like to show and explain how things would be done from the "Old Dog" perspective. No Jetting, Timing, Pipes or Dyno tuning. That's for the rest of you folks who know about that kind of stuff, Jump in.
Measuring tools: This is an example of some of the Junk which floats around and the tools used to help avoid some of the problems.
A dial or digital caliper is an economical and handy measuring tool. When some close measurements are required, you need to step up to a micrometer and dial gauges.
A 250cc cylinder converted into a maximum Big Bore engine. The bore is so large that there is no Head Gasket surface left. Common sense would tell us that this isn't a good idea.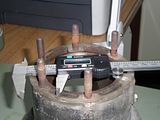 Sometimes a sleeve needs to be mounted on a Mandrel in order to get accurate measurements for calculating the Squeeze fit.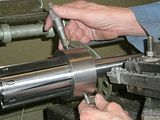 The Dial Bore Gauge is the work horse in the bore measuring department. A little spendy, but well worth the investment. When you farm out your cylinder machine work, you can check up on what your engine guy is really doing.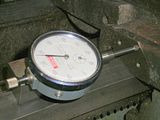 Measurements on the lathe. Over time, you'll get a Feel for your tools.
A minimal invest in precision measuring tools is a fine addition to your tool chest.
We're new at this, Fire away with your questions.
"Old Dog"
www.smallenginemachineworks.com
JT
I've worked on the layout of this thread all Morning. I GIVE UP.