Discussion Starter
·
#1
·
I dont want to go in much detail about the whole incident, b/c it would take about an hour and a half to write it all down not inluding pics.
But a few months ago I placed a wanted ad for an LT500 bottom end. I had a response by blaster22.
We talked for a little while through text messages. Asking about things I was looking for and needing to know if any major repairs done. He also sent me pics of the motor. I was happy with what I saw and the responses of "No broken mounts or cracks" or "clean up port job" or "new sleeve".
So I decided to go through with the transaction.
Lets just say the pics of the motor didnt do it justice.
When I got it the UPS guy rolls it in on the two wheeler, places it on the ground and I can here shit moving around. Box is fucked, rips everywhere. I open it up, to see an oil coverd plastic walmart tote. With the 500 motor just "dropped in". No bracing, packing peanut, bubble wrap. NOTHING. You would think when you sell something, you would ship it like you were sending it to yourself. "How would I want to see this packaged?"
Fuck it. You know what, as a write this I get more pissed off on how he thought it was "ok" to do this to someone.
The main thing I was pissed about is when asked if there was anything broken or cracked he replied with the picture and saying "Nothing, looks good."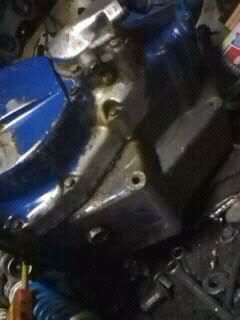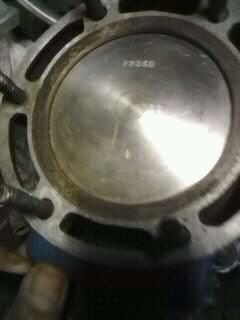 This is what I got.